Transition Dialogue – Что дальше?
24 сентября в библиотеке Луизенбад в Берлине состоялся воркшоп под названием «Поколение Трансформации в Восточной Европе: Поколение неопределенности – Поколение недоверия». Данное мероприятие прошло в рамках проекта «Диалог о Трансформации» который является совместной инициативой ДРА и София Платформ (Болгария) при поддержке Федерального агентства гражд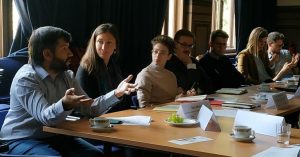 анского образования Германии.
Эксперты в сфере политологии, молодежного образования и социологии из восьми восточноевропейских стран приняли участие в воркшопе для поиска нового подхода и методов гражданского образования поколения перестройки. Целью встречи явилась постановка дальнейших конкретных задач и вопросов для лучшего понимания актуальных политических позиций, гражданских знаний и возможностей людей, переживших переход к демократии в 90х годах в Восточной и Южной Европе, а также России и ГДР.
Были представлены социологические и политические исследования поколения транформации, ставшие основой для дальнейшего обсуждения формальных и неформальных подходов и других аспектов гражданского образования. Участниками была также подчеркнута необходимость такого обмена профессиональными знаниями для лучшего исследования и понимания процесса перехода к демократии с разных перспектив. Затронутые важные вопросы и темы будут впоследствии вынесены на широкую дискуссию на конференции в Софии (Болгария), которая пройдет 22-23 ноября 2018 в рамках проекта «Диалог о Трансформации».
Transition Dialogue – Wie geht's weiter?
Unser Transition Dialogue war im letzten Jahr ein wenig still. Die nächste Periode unseres Dialogs beginnt jedoch. Was kommt als nächstes? Darum ging es in unserem aktuellen Treffen.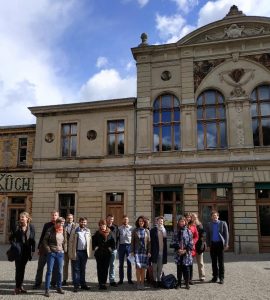 "The Generation of Transition in Eastern Europe: A Generation of Uncertainty – a Generation of Distrust?" Zu dieser Frage veranstaltete der DRA gemeinsam mit seiner bulgarischen Partnerorganisation "Sofia Platform" und durch Unterstützung der Bundeszentrale für politische Bildung einen Workshop am 24. September in der Bibliothek am Luisenbad in Berlin. Die Veranstaltung wurde im Rahmen des gemeinsamen Projekts "Transition Dialogue" durchgeführt.
Expert_innen der Politikwissenschaft, Jugendbildung und Soziologie aus acht osteuropäischen Ländern kamen dabei zusammen, um nach neuen Zugängen zur Erforschung der "Wendegeneration" und davon ausgehend neuen Maßstäben für die politische Bildung zu suchen. Ziel des Austauschs war es Fragestellungen zu erarbeiten, die helfen die aktuellen Einstellungen, politischen Ansichten und zivilgesellschaftlichen Haltungen der Menschen zu verstehen, die die massiven Transformationserfahrungen der 1990er Jahre in Ost-, Süd- und Mitteleuropa miterlebt haben.
Während des Workshops wurden soziologische und politikwissenschaftliche Studien zur Wendegeneration aus verschiedenen Ländern vorgestellt, die die Grundlage für die weitere Diskussion bildeten. Die so erarbeiteten Kernthemen dienen der Vorbereitung für eine umfassendere Konferenz im Projekt "Transition Dialogue", welche am 22.-23 November 2018 in Sofia (Bulgarien) stattfinden wird.